Drummer in the Woods (in Virginia)
Drummer in the Woods (in Virginia)
Where have I been? Where to begin? It has been a very busy year. As I summarized in my Christmas letter, "Maddie returned from a year abroad working at Lego's headquarters in Denmark in February; she took her dog Cabot (that we had dog-sat for 8 ½ years) in March; we lost old Cal in March; Maddie and her boyfriend Pat got engaged in August; we sold a house in Vermont in September; Karen and I were reunited and we got a puppy in September; Katie and her boyfriend Mark came down to visit in October; and we bought a house in November.  It has been a busy year."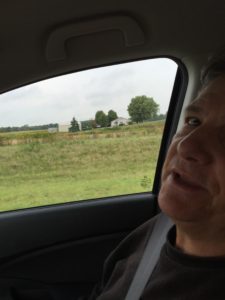 Imagine Maddie in Denmark. Imagine Maddie and Pat getting engaged. Imagine Karen at the closing in Vermont while I was in DC working (don't imagine all the work she did to get the house ready, finding movers, getting quotes, packing stuff, loading her car, and driving 12 hours..broken up by a yoga retreat in Massachusetts). OK, so let's talk puppy.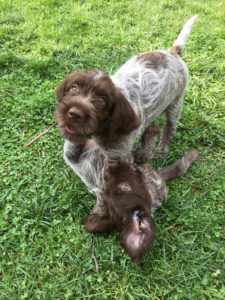 Drummer? Drummer is a Wirehaired Pointing Griffon – registered name, "Drummer in the Woods." Drummer is named after a book about ruffed grouse hunting by Burton L.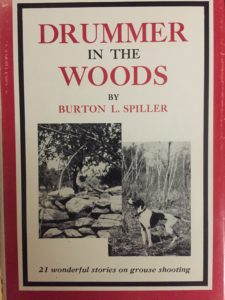 Spiller, Drummer in the Woods. I gave at the breeder a copy of the book when we picked up Drummer boy.
Picking up Drummer turned out to be a really, really long day. My good friend Jim and I left Northern Virginia for Ohio very early on a Saturday in September. Karen got out of the trip by flying to Vermont to help in trailering her horse Bestie down to Virginia.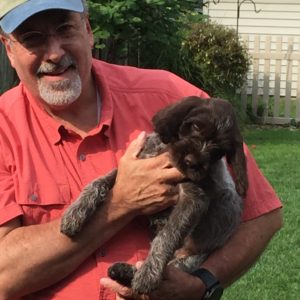 Until we picked up Drummer I had only read about Griffs, seen them in You Tube videos, and talked with the breeder. It is safe to say we were taking a bit of a leap. It turned out to be a pretty short leap.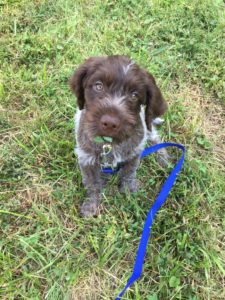 Wirehaired Pointing Griffons ("Griffs") were recognized by the AKC in 1887. Eduard Karel Korthals is credited with establishing the breed around 1873. Korthals' goal was to create the perfect all-around, versatile gun dog. His dogs were bred for extreme resiliency, vigor, and devotion to its master. He also wanted a dog that would work close to its master and be very trainable. (A side benefit to Griffs is that they hardly shed.)
Drummer is a keeper. He was about as good as you could ask on the 7 hour drive back to Virginia. He cried when we put him in his kennel in the car. (We tried the riding-on-your-lap thing. but he wouldn't settle down.) I took the door off his kennel and he stopped crying and stayed in the kennel, sleeping most of the way home.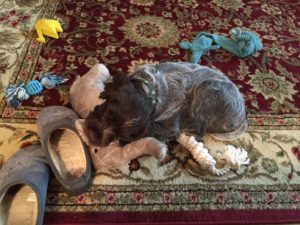 Drummer settled in pretty quickly back in Virginia and had very few accidents in the house. Most accidents were training fails – he went to the door and whined, but we didn't think he really had to go out. He showed us we were wrong. He is really a sweet boy and it is so nice to have a dog back in our lives. It would be a delight to be able to hunt over him next fall.